If you're pro-solar, acrylics and tips, you may want to skip this post... I'm pretty anti-artificial nails now!
I've been wanting fake nails for as long as I can remember. My Mom had her manicurist license when I was a kid and I used to always watch her apply nails, absolutely fascinated by how short and stumpy nails could be transformed into long and elegant nails in a matter of minutes. My Mom always warned me with "don't do it, it's not worth it..." and up until a couple of weeks ago, I heeded her advice.
My bestie and I decided to go and have our nails done; she, because her nails were and bad shape from work and me, because I had quit my job and wanted to do something frivolous to celebrate. I'm a big believer in at-home manicures, so I decided that I would go ahead and get solars, since it's not something I can do for myself. Forty dollars and half an hour later, I had my first set of solars. I was so excited by having nails that I overlooked little flaws* and was more focused on "I have nails! Look how pretty and shiny they are!" They were awful.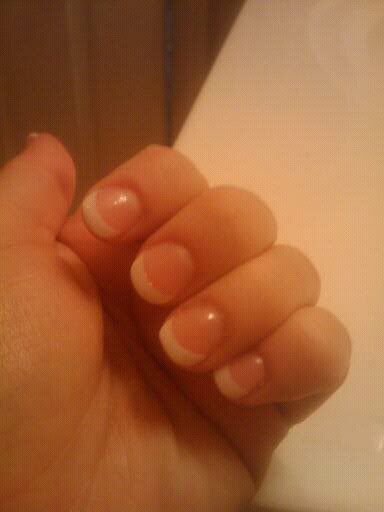 The first set that I had put on were way too square, too thick, had bubbling in the gel as it dried, and I had lifting after one day. By day three, several of the nails had actually cracked, my thumb nails had to be taken off since they were cracked all the way through, and one of my nails had almost completely lifted off. Ugh! I went back to the place I had my nails done at, and they were nice enough to put on a new set. The new set went on pretty well and lasted for about a week before I caught my nail in the truck door and pulled part of it off. I will admit that while my nails were on, they looked really nice and using several coats of a base, I was able to change my polish color several times with little to no problems.
After I cracked my nail, I went to my trusty Walmart, bought a bottle of acetone, a new cuticle pusher, coarse grit file, buffing block, and Revlon post-trauma treatment. To remove my nails I used the follow steps:
Clipped nails short
Used coarse grit file to get artificial nail as thin as possible
Soaked nails in acetone
Used cuticle pusher to gently lift and push acetone off of nail
Buffed nails
Used cotton pads soaked in acetone to remove any trace of solar nail left
Buffed nails again
Applied Post-Trauma nail treatment
After I took my nails off, my nails were so thin and brittle, with completely uneven surfaces that were visible even after applying several coats of nail polish. My nails had grown out a little since I had my solars put on and I have a VERY visible ridge that I'm trying to slowly smooth out with a buffing block.
I honestly don't think I'll ever have artificial nails put on again because to me, they weren't worth it at all.
Xoxo,
Ashleigh
*If you choose to have your nails done, SPEAK UP to your nail tech. If you think she's making the nails too square or too round, too thick or too thin, or if they just plain look weird, TELL HER.