I'm so excited! I just got my order from
E.L.F
and there's all kinds of gorgeousness to see! Now, forewarning, this is going to be a very picture heavy post, so we're just gonna go ahead and put all of the fabulousness behind a cut.
First, let's start off with a picture of everything together...
Ooooh... Ahhhhh... Look at how luxe the packaging for the
Studio line
looks. I love the solid, black containers with the minimal white lettering on it. It has a good weight to it that feels good in my hand and will look lovely on my vanity.
I think I was most excited about the two lipsticks I ordered. While I was looking at the pictures online, the names "Posh" and "Voodoo" caught my eye.
Posh
is decidedly red, but it applies fairly sheer and I think it's a pretty easy-to-wear shade that fades to an almost stain-like finish.
Voodoo
is a brownish red that would look very pretty for a paired down "day" look, or as a neutral for a smoked out eye.
I think it's pretty cool that the tubes have a little window in them so you can see which color your snatched up from the bottom of your purse.
I don't know, I love the names and the shades, but... I think it would be more fitting if the names were switched. When I think about voodoo, I think about the bayou, drama, power, not something neutral.
Both lipsticks were a little hard and waxy at first, but once I got the first swipe on, they applied very smoothly. I strongly reccomend using a gentle lip scrub and good lip treatment before using these lipsticks, as they seem to accentuate any dry spots you may have.
The only thing that annoyed me was that my tube of
Posh
was broken at about the half way point, making it ridiculously hard to get it in a good position for application. I've contacted
E.L.F
to see if they have any suggestions, or if I can send it back for a replacement.
I ordered the
Cream Eyeshadow
in
Dawn
and I'm kind of in love with it. I've been lusting after some of
Benefit
's cream eyeshadow and wanted to try one a little lower on the price scale so I could figure out if I even liked cream eyeshadow before I spent big monies on it.
Dawn
applies like a dream, well pigmented and silky feeling. It's a light, shimmery nude that's going to be perfect for days that I'm in a hurry and only have time for a pared-down look, or to use as a base shade for a smokey eye.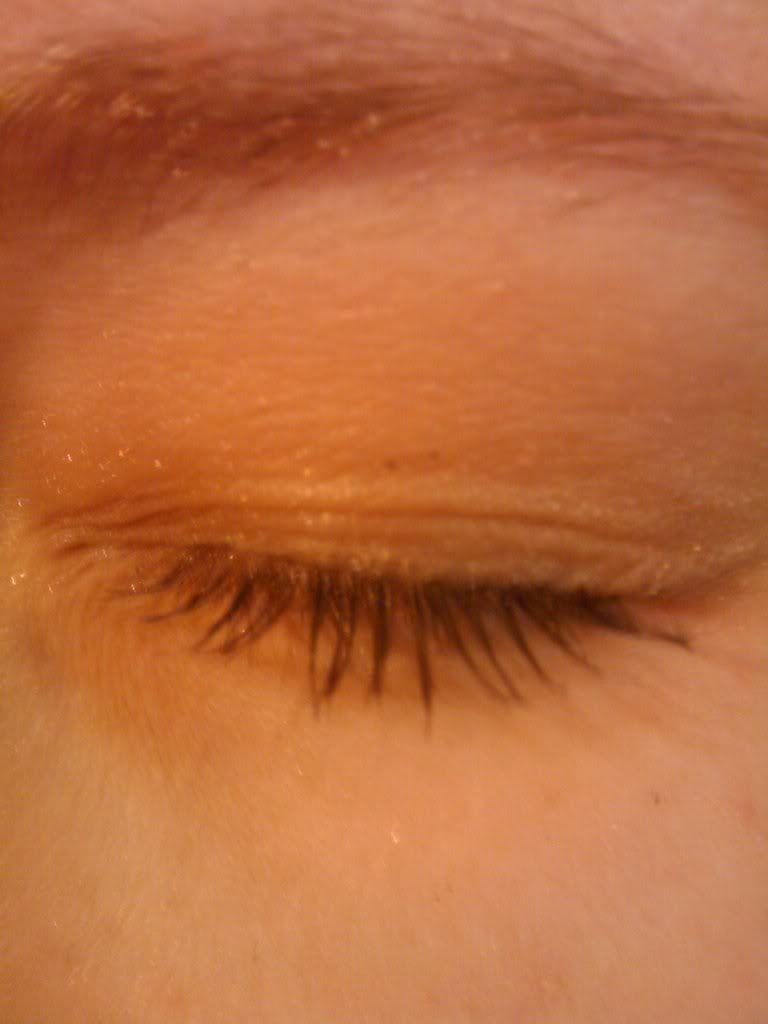 The
Eyelid Primer
is nude, creating a smooth, even canvas for your eyeshadow. A tiny little bit will do it, and the doefoot applicator is great for a quick swipe across your lids. It kind of reminds me of
Urban Decay Primer Potion
, both in packaging, application, and feel.
The
Nail Polish
isn't bad, especially for only a dollar. The brush is of average length and thickness, with moderately soft bristles, and
E.L.F
polishes are three-free. In case you don't know what that means, three-free typically refers to a nail polish that doesn't have toluene, formaldehyde, or dibutyl phthalate (DBP). Now honestly, don't ask me what toluene or DBP are, because I couldn't tell you, but I do know that formaldehyde is a preservative.
Medium Red
is a bit deeper than what I could call "medium," but it's pretty. It took three coats for full opacity and if I didn't have roughly five thousand
other
red polishes, I would buy it again.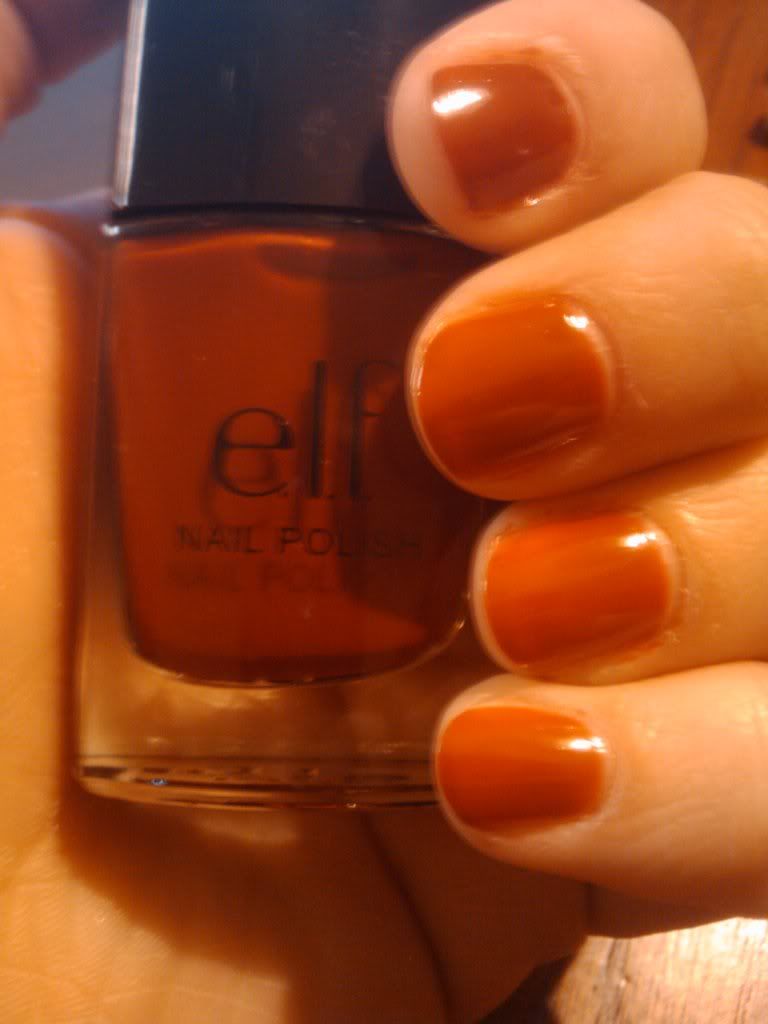 And then there's the
Matte Topcoat
, something I ordered just for giggles n' grins. I never really understood the attraction to matte polishes, so when I saw the
Matte Topcoat
, I thought "Oh, why the heck not?" I don't like it. It dries streaky and if you apply it a little too thickly, it pulls at your polish and even after ten minutes, still isn't dry, which caused me to pull off almost all of the polish on my pinky finger. I somehow managed to get a good application on my ring and index finger, and it turned my shiney
Medium Red
into a slightly darker, satin finished version. Okay, I like the effect it has when it wants to play nice.
The
Concealer Pencil and Brush
is pretty magnificent. It has salicylic acid and tea tree oil to help dry up and treat pimples. The "fair" shade matches my skin tone almost perfectly, and it's great to use under my eyes and on any of those pesky spots that had a tendency to pop up at annoying moments. Added bonus: the lid doubles as a sharpener, and the other end is a soft, yet firm brush that makes blending sooooo easy.
I used a little under my left eye, and you can see how dark the circle is under my right eye (even at an angle!) without any concealer.
Blushing Rose
is pinky-brown blush with plenty of shimmer that adds a nice glow instead of looking like a glitter bomb exploded on your face. Perfect shade for Fall/Winter, but you definitely need to apply with a light hand and really only on the apples of your cheeks so you don't look like an 80's throw-back.
Sorry for the dodgy swatch on my wrist! Turns out, the picture of me wearing it didn't get uploaded to photobucket before I deleted it and I had already washed off my make up before typing this!
I received the
Shimmering Facial Whip
in
Toasted
as my free gift for referring three friends and it's probably just going to stay in the bottom of my make up bin. It's kind of oily and too shiney and just... odd. It's supposed to be used as a highlighter, but I think it's just way too shimmery for that. I didn't even bother trying it on my face because the swatch on my hand was messy enough.
I bought the
High Definition Powder
, because it's supposed to be a dupe to some of the more high-end high-def poweders on the market. I can see why. It's very finely milled and has a wonderful feeling slip to it and I can actually see a visible difference in the appearance of my pores. This is something that I will definitely be repurchasing!
Well, I hope you all enjoyed my haul post, I'm looking forward to doing another one, and definitely look forward to blogs with me using this products in day-to-day life
XOXO,
Ashleigh